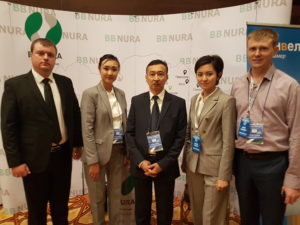 On September 21-22, 2018, the
employees of the company B.B.NURA took part in " II National Congress of
the Republican public Association" Nephrologists, dialysis and
transplantologists "(VI Kazakh-Turkish Nephrology Congress, V Congress of
the Association of Nephrologists Of new Independent States) .
The scientific program of the
Congress provides for the participation of nephrologists, endocrinologists,
cardiologists, rheumatologists, leading experts and experts of international
level in the field of Nephrology. The scientific program of the Congress will
be devoted to the progression of glomerular disease, genetics and proteinomics
in Nephrology, urgent conditions in Nephrology, cardiorenal continuum, modern
pharmacoeconomics in Nephrology, organ and cell transplantation, indicators of
the quality of renal replacement therapy. The Congress will include working
thematic round tables on topical issues of interdisciplinary Nephrology,
thematic exhibitions, interactive presentations. Working languages: Russian,
English.
Our colleagues were directly
involved with the reports:
1. Presenting results of use of epoetin zeta in clinical practice of ambulatory hemodialysis in Kazakhstan: experience of individual HD centers Kokoshko A.I.
2. CKD: Hyperphosphatemia
and calcification of vessels
Sholpan Kanafina (Kazakhstan).
3. The Sagliker
Syndrome. Embolization of parathyroid adenoma
Andrey Starodubov (Kazakhstan)
4. Experience of
ultrasound imaging of central vein catheterization process to provide renal
replacement therapy
Askar Zhunusov (Kazakhstan)
The representative of the
company, Azimbaeva Indira Alimkhanovna, received the highest award "Golden
man in Nephrology 2018»