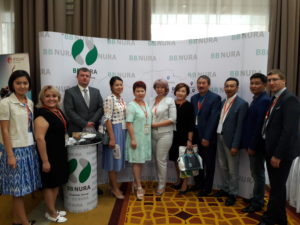 7-8 September in the city of Aktau has passed the first national Congress of the Republican Association of Nephrologists, doctors, dialysis and transplant in conjunction with the V International Kazakh-Turkish Nephrology Congress.
The Congress became a platform for over 150 participants from the regions of Kazakhstan, CIS and far abroad, where they discussed current issues and modern trends in the field of Transplantology, Nephrology and Dialysis, among whom were those of a network of dialysis clinics LLP "B. B. NURA". Our company have two speakers with presentations on the topics "Catheter associated infection and ways of solving problems" (doctor nephrologist Ivanov E. A.) and "GDF online: clinical experience at dialysis center B. B. NURA" (doctor nephrologist Nurbekov A. B.).
On the second day of the conference our company organized a lottery in which participated all the members of the Association and guests of the conference. The lottery played three main prizes. The winner of the super prize was Zhumagulova Nazim Adilbekovna doctor nephrologist of 7 City hospital of Almaty.