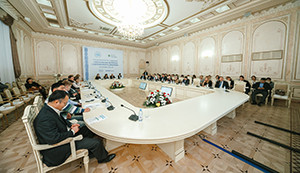 In October 30, 2015 scientific-practical conference was held in Pavlodar, on the theme of "Actual problems of modern dialysis", the event was held at 1 May Street 35/1 in the conference hall of the "House of Friendship". The initiator of the conference of the NGO "Association of Nephrologists of Kazakhstan."
The conference program included reports on the provision of high quality care for patients with kidney disease. The conference was attended by chief nephrologist of Ministry of health and social Development of the Republic of Kazakhstan – Saltanat Tuganbekova Kenesovna, Kabulbaev Kairat Abdullaevich – Head of the nephrology department KazNMU t S.D. Asfendiyarov, leading domestic and international  nephrologists and dialysis specialists.
Following  reports were read in conference: management of patients with chronic renal disease, renal pre predialysis period, anemia, mineral-oil-skeletal disorders, the use of anticoagulants in dialysis. A series of reports were presented by the citrate and peritoneal dialysis, the presentation by type of vascular access for dialysis. In addition, medical director of LLP «B.B.NURA» will receive a report on the experience of the organization's network of dialysis centers «B.B.NURA» LLP, followed by a visit to the center of nephrology and efferent therapy. This center is a model of nephrology therapeutic and diagnostic center, focused on improving the efficiency of dialysis services.
Meanwhile, were held master- classes for nursing staff of LLP «B.B.NURA»: with topic: "Nursing care in the dialysis service" .
At the end of the scientific – practical conference were given certificates.