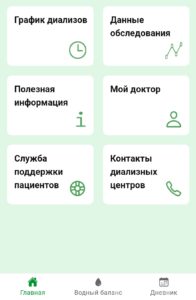 Dear patients!
Thanks to the productive work of the company's employees and partners, a new program "mobile application for patients of B. B. NURA LLP "was launched.
The functionality of this application includes:
View survey data for the current month, such as hemoglobin, phosphorus, parathyroid hormone, creatinine before/after, calcium, etc. You can also recall and track all the dynamics of analyses over the past months.
Self-monitoring diary (fluid control, BLOOD pressure, Pulse, well-being) with an accessible and intuitive interface, where all fixed indicators are presented in the form of graphs.
View the schedule for receiving hemodialysis procedures for this month, if necessary, inform your doctor about the change in the schedule for receiving the procedure.
The entire contact database of B. B. NURA LLP centers in all regions of Kazakhstan.
Useful information and news for patients!
ATTENTION!!!
This app only works for patients and the transfer of information to third parties is excluded.
Available only for patients of the company "B. B. NURA".
You can download the mobile app to your smartphone right now by following the link   BBNURA – Apps on Google Play
Enjoy your use, sincerely, the network of dialysis clinics "B. B. NURA" LLP.
Link to the news: